It's been a year since The Wah and I came off second-best after
an entanglement with a jellyfish
in Ha Long Bay, Vietnam.
One year on, and the record of my encounter is still an angry red barb on my inner-forearm.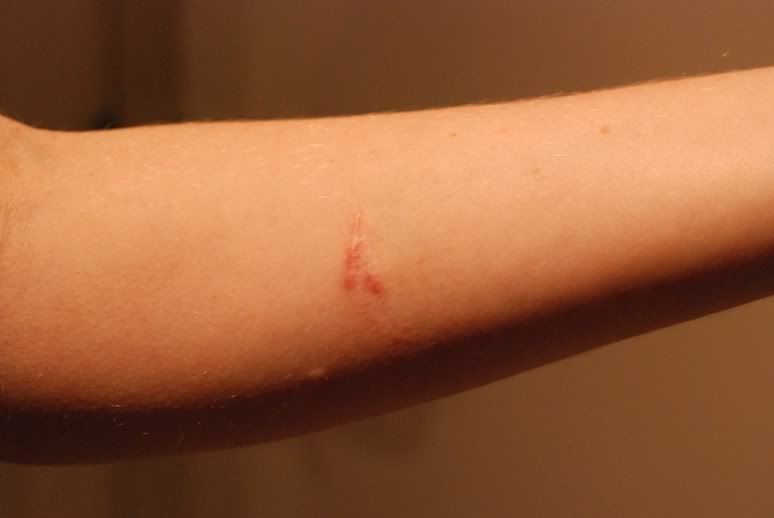 In a split second, that goddamned inverterbrate sea creature left more of a mark on me than all of Tom Cruise's films of the past decade.
I have a bunch of scars. Most are on my legs, which these days resemble the pitch battlefields of the Somme, littered as they are with trenches and spools of criss-crossing barbed wire. Each one is a relic of a hasty shave job, a close encounter of the feline kind, a painful run-in with a car door, or a slip down some stairs, or a slip on a travelator... all of them related in some way to my epic clumsiness.
However my best scar - up until I received the sting, at any rate - is on my left thumb. That one you can chalk up to kabana. I'd been trying to open a packet of the delicious sausage while making a pizza, but had grabbed it in the wrong way, placing my thumb right beneath the portion of the plastic I proceeded to thrust a sharp knife through. I was 13 at the time, and my parents had to take me to the doctor to tape down the flap of skin that I'd created. No stitches, mind, just butterfly tags and a whacking great big bandage. To this day I have a bulging pad of skin on the thumb, bordered by a U-shaped scar.
Do you have any good scars/good scar stories?